This Journal is Friends Only
If you'd like to be added to the Friend List, please send an email to Carina_Campbell@yahoo.co.uk
It's that time of year again! My favourite yearly questionnaire meme!

1. What did you do in 2013 that you'd never done before?
Visited Rome
Had a conversation in Italian with the locals
Climbed waterfalls in Spain
Attended Myah's Christening
Made jewellery
Ran a craft stall at Clutter City
Meditated in a floatation tank
Had Hypnotherapy
Put a breeding pair of snakes into brumation
Got bitten by a snake
Went to A&E in an ambulance
Shut my finger in a car door
Had my first panic attack
Skinned, plucked and ate pheasant and partridge
Went clubbing in London in a limo bus for Chris' 30th
2. Did you keep your new year's resolution(s)?
Broke all three of them. (get in touch with old friends, draw every day, finish my non-fiction.)
3. Will you make more for next year?
Yes. I'm going to be vegetarian.

4. Did anyone close to you give birth?
Nope.
5. Did anyone close to you die?
Thankfully not
6. What countries did you visit?
Italy and Spain.
7. What would you like to have in 2014 that you lacked in 2013?
Money saved up for trips outside of Europe for 2015 and a finished second draft of my first fiction novel.
8. What date(s) from 2013 will remain etched upon your memory, and why?
I think I've finally figured out when my friends' kids' birthdays are.

9. What was your biggest achievement of 2013?
My sense of perspective and figuring my head out.
Listening to myself and knowing when to quit (temporarily) and when not to give up.

10. What was your biggest failure?
I can't fail if I don't stop trying.
11. Did you suffer illness or injury?
Didn't even catch a cold.
I slammed my finger in a car door on 23rd December though.

12. What was the best thing you bought?
A piece of artwork that took many, many artists nine years to complete and my two albino gopher snakes, Ruby and Red.

13. Whose behaviour merited celebration?
Chris, for being the best band of hus (husband)
14. Whose behaviour made you appalled and depressed?
Always my dad

15. Where did most of your money go?
Holidays, mortgage, food. Same as the year before and the year before that.
16. What did you get really excited about?
Rome and Spain

17. What song will always remind you of 2013?
Macklemore's 'Can't Hold Us'

18. Compared to this time last year, are you:
-Happier or sadder?
Same

– Thinner or fatter?
Same
– Richer or poorer?
Same
19. What do you wish you'd done more of?
Writing and drawing.
20. What do you wish you'd done less of?
Candy Crush Saga
Letting fear get the better of me

21. How did you spend Christmas?
Opened presents round Mum's with Chris, Bob and Jenna for an hour then spent the rest of the day at the in-laws' with Michelle and Rob as well.
22. Did you fall in love in 2013?
I've always been in love :)
23. What was your favourite TV program?
BREAKING BAD!!! Adventure Time, The Walking Dead, My Little Pony: Friendship is Magic, Mad Dogs
24. Do you hate anyone now that you didn't hate this time last year?
I actually 'hate' everyone a lot less haha (I put it in inverted commas because I never really hate to begin with)
25. What was the best book you read?
Oh God, I read the first half of about ten books and never finished one.
26. What was your greatest musical discovery?
Showtek, High Contrast, Macklemore, violin dubstep.

27. What did you want and get?
A Kindle and a 3DS XL

28. What did you want and not get?
A greenhouse! Getting one in the Spring.

29. What was your favorite film of this year?
Gravity
I still haven't seen the second Hobbit film!

30. What did you do on your birthday, and how old were you?
Had a great My Little Pony themed birthday party, playing pass the parcel, musical chairs, hit a pinata, had a treasure hunt and Gemma made me a MAGNIFICENT rainbow-layered cake... I turned 29.

31. What one thing would have made your year immeasurably more satisfying?
Finishing one of my books.
32. How would you describe your personal fashion concept in 2013?
Dresses, leggings and skinny jeans.

33. What kept you sane?
Hypnotherapy
Putting everything into perspective
My art studio
34. Which celebrity/public figure did you fancy the most?
Jennifer Lawrence
35. What political issue or news stirred you the most?
North Korea. I'm obsessed with documentaries and books about the place.
Oh, and Blackfish.

36. Who did you miss?
Same old people as always.
37. Who was the best new person you met?
I don't believe I met any awesome new people this year, regrettably.
38. Tell us a valuable life lesson you learned in 2013.
To be more forgiving with myself and less outwardly opinionated.

39. Quote a song lyric that sums up your year.
Can't think of one sorry! I've got to wrap this up as our NYE party is about to start!
40. List some other notable things that happened in 2013.
Visited the Orton Hall in Peterborough again with Chris this time.
Greenski died


It's 2pm and dark outside.

I waited eight months for Summer to come around, but after weeks and weeks of gorgeous hot weather I'm now looking forward to Autumn. Granted I'll have one last week of sunshine on holiday next week before I return to this cold, but I didn't expect to be excited by these shortened days. Just the smell in the air brings on such nostalgia of the year before. I love it! Halloween, bonfires, Guy Fawkes Night, roasted chestnuts, cosy blankets, a mug of hot chocolate in the morning, pillow forts and fairy lights. Ahhhhh.
Emotion:

nostalgic

Current Music:

Radiohead
If you'd like to see more videos, photos and generally more activity from me than you do here on Livejournal, catch me on Tumblr at
http://fizzyegg.tumblr.com/
Rome was mind-blowing. I learned so much about history and since our hotel was smack-bang in the centre, we could walk under a mile in any direction and be met with amazing sights such as the Emmanuel Monument (or wedding cake building, as the RAF nicknamed it), the Pantheon or the Trevi Fountain. The Colosseum was literally a five minute walk. I only really knew the rough history of the Colosseum from the movie Gladiator etc (I know right?), so the tours we took of that and the Forum ruins were fascinating.

We went on the food tour to visit a few restaurants in the Jewish Ghetto with an American family from Boston, another American couple and an Australian couple. We visited the most amazing cookie shop that was owned by 5th generation of the same family since the 1920s, an old wine cellar 150 years older than the Colosseum (over 2000 years old!) and the most INCREDIBLE forgotten pharmacy. The pharmacy was inside an old church where eight monks still lived, but the room had remained completely untouched for hundreds of years and was closed to the public. We had to be quiet because the rest of the monks were asleep and one had stayed up late to let us in (rather grudgingly lol). There were dusty bottles filled with potions and tonics, a baby chameleon in a jar (which must have been so exotic in Italy at the time!) and a big cauldron filled with a mixture of things like snake venom and owl talons. I gave in a sniff and it smelled like liquorice. Intricate paintings decorated the ceiling and the cabinets filled with plant extracts and dusty record books looked like something straight out of an mad scientist B-movie. I could have rummaged around that place for hours but unfortunately we weren't even allowed to take photos. As soon as we walked in Chris whispered to me that it looked as if the place had been made especially for me haha!

The first night in Rome we found a dingy old karaoke bar and we were pretty much the only customers aside from an Italian guy singing badly-translated English songs. I convinced Chris to sing the Oasis song 'Don't Look Back in Anger' after a few drinks, which was fun! Stumbling drunk around Rome and discovering more and more illuminated ruins was so awe-inspiring and it was nice to feel warm as night without a coat for a change.

We found a cat sanctuary one day and spent returned a second time to play in the room for the special needs kitties for long while. That was pretty special. So was just lazily laying on the grass as Aventine Hill, which looked over the whole city. We walked so much every single day that when I awoke each morning I felt like I'd done a whole 'leg day' at the gym with no breaks! I spoke quite a bit of Italian and even managed to pull off some good conversations a couple of times. One old guy just couldn't get over how white I was though lol. Chris said he even saw a few people stare and point at my pale legs. WTF!

Unfortunately I'm either allergic to red wine (never had a full glass before and felt a bit dodgy while drinking it even though it was the best red wine I've ever tasted), or I contracted food poisoning immediately after the food tour. I was fine by the following afternoon, but it meant I didn't have the strength to go on our four hour tour of The Vatican. Pfft, who likes the Pope anyway? Kind of gutted I missed out on seeing the Sistine Chapel but we got time to chill by the Trevi Fountain and do some shopping instead. Most nights we sat on the roof terrace of our hotel with a bottle of wine just appreciating the warm night air.

When we got home I just spent the whole next day in the bath and experimenting with make up without feeling guilty about not being productive for once.

I'll put some photos from our new camera on Facebook soon. Nice to use something beyond my phone's camera as I'm sure it wouldn't have done Rome much justice!

Sardinia or Sicily next I reckon! :D
"Our lives are undefined. For all we know, our next movie could involve this process somehow and if we hadn't filmed the past few years, we wouldn't have that movie, so if we don't record this, we won't have whatever's next. Better to have it than to not have it." -Henry Joost, Director of 'Catfish'

This reminds me of my Livejournal and how keeping a diary since 1993 has been a huge part of writing my book about my sister. Without these writings the book would not have been so easy to write. Not impossible per se, but I most likely would not have even started writing the book at all.
I originally bought two dwarf monitors/ackies in the hope I would be able to see communal lizards interacting with one another, but unfortunately it appears I've ended up with the worst combination of sexes with these two as the video below proves them to be two males.



I'm unsure at this point whether to rehome one of them, or both. If I rehome one, I'll be searching for a female, but if I rehome both, I'll get another blue tongue skink as a possible mate for Vincent. Although I'm not entirely sure I would breed skinks as there seems a lot of work and commitment involved that I would have to research incredibly thoroughly beforehand. Then there's the issue of not being able to tell Vincent's sex UNTIL I see his behaviour with another skink.
An excerpt from what i wrote for my novel today:

Autism isn't always a 'gift' to be celebrated. It isn't anything remotely like what the movie Rain Man will have you believe. Jenna has no special super powers. She has severe developmental disorder that took away any ability for her to lead an independent life and make friends. It took away her ability to communicate with the rest of us with ease and it put in it's place the frustration that makes her scream so much that she shakes with rage. All in the effort to try and understand and to be understood. Doomed to a lifetime of neither.

I had to stop because I started crying after that last word, but I'm up to almost 3000 words in two days. Not too bad. Hope to do another 3000 tomorrow since I don't have to go to work.


Emotion:

accomplished
(
How many times have I started memes like this now? Well I intend to stick with this one!
Collapse
)
1. I've always lived within five miles of the hospital I was born in.
2. My mum's dad was African American, but the rest of my extended family are from Norwich, England for as far back as I know about.
3. I have one living grandparent left (my dad's mum) and I visit her on my lunch break once a fortnight.
4. My best friend in middle school was from Brazil and we lost touch for 15 before I found her on Facebook yesterday.
5. I'm a polyamorous bisexual, though I'm happily married in a monogamous, heterosexual relationship.
6. My faourite vegetables are mushrooms and artichokes because they're the meatiest.
7. I'm a graphic designer for a company that owns a Greek restaurant, a 1920s gangester-themed restaurant, a hotel, a chain of British carveries and a night club.
8. I also do some work on the side for my father-in-law's refurbished laptop business.
9. My oldest friend is Jade. We've been friends since we were six months old and she was my neighbour growing up. I still see her about once a week and we could probably chat for 24 hours straight!
10. I had a cat called Spock for 21 years since I was born. She died in 2005.
11. The YouTube video I made of my rats standing up and staring at each other has made £2000 from around 20 TV companies asking to use it over the past three years.
12. I plan to write the first draft of my book about my sister and autism during Norvember for National Novel Writing Month.
13. I suffer from noise anxiety in my every day life, so I listen to white noise and rain with noise cancelling headphones at work.
14. I'm arachnophobic but I'm making steps to overcome my fear my poking spiders whenever I see one.
15. I have an obsession with Trip Advisor and reading reviews about places I want to travel to within the next few years.
16. I have a fascination with volcanoes and mountains. Probably because I live in the flattest part of England.
17. I still have my first pet giant African land snail, Metalhead Gary. He's about seven years old.
18. I've played Gears of War 3 for around an hour a day for the past year.
19. I'd find it harder than most people to live without pets or travel plans. Unthinkable!
20. My favourite animals are rats, aye-ayes, skinks, monitor lizards, pine snakes and cats.
Emotion:

busy
I had a very well-deserved break with my husband in the Lake District last week. I think I stayed in a youth hostel in Grasmere or Buttermere when I was 11 or so with my class and I loved it back then just as much as I do now. We stayed in the biggest hotel in Ambleside and it was the best location imaginable for everything we needed. We explored caves, went on what felt like roller coaster rides down all the best driving roads, climbed on our hands and knees up valleys and ate at all the best restaurants. I love it there so much. I'm going to aim to live out in the countryside one day.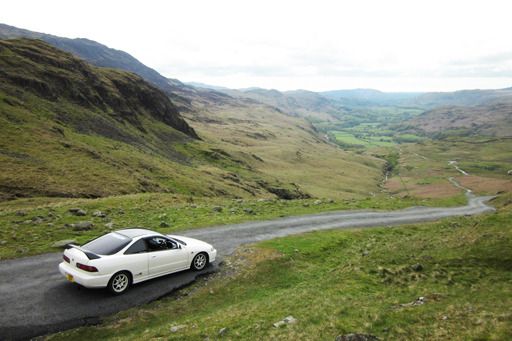 Chris was disappointed that he couldn't bring his Mazda RX7 due to insurance renewal issues, but I'm not sure it would have been able to deal with the gradient of some of the utterly insane roads we tackled. The Integra was pretty beaten up by the thrashing he gave it!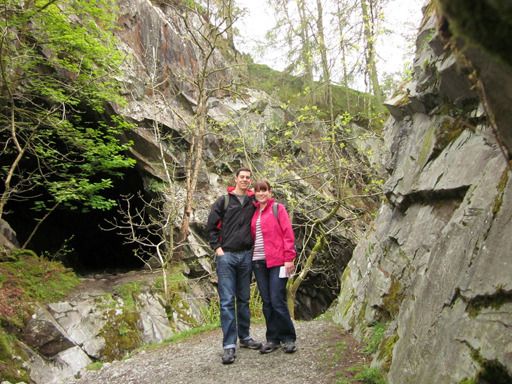 I'm not even sure you LJers have even seen Chris before. He makes me look tiny. Bearing in mind I'm close to 5'10!
Check out our matching shoes. I'm a size 10UK (12 in the US), so my female shoe choices are limited and I end up wearing the same as him if he finds a good deal haha.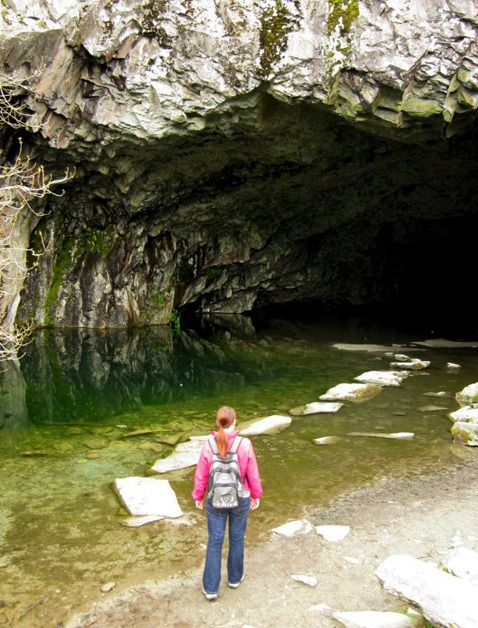 I love this photo. It's the homepage on my phone now. I have an old photo of myself on a school trip when I was about 7 years old and I had the same colour coat as in this picture. When I look at this photo I see the same 7 year old that always loved exploring and (tame) adventure. It oozes nostalgia to me.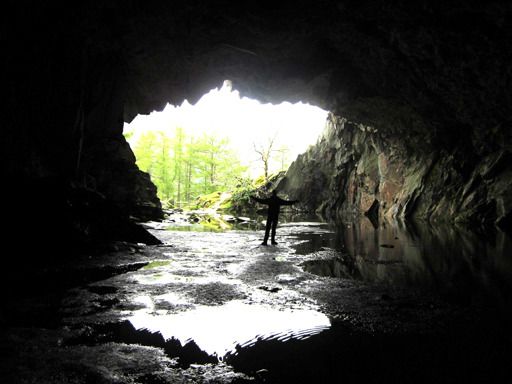 Chris standing at the mouth of the monster.
I'm not entirely sure how this cave was full of fish, being so high up in the side of a mountain.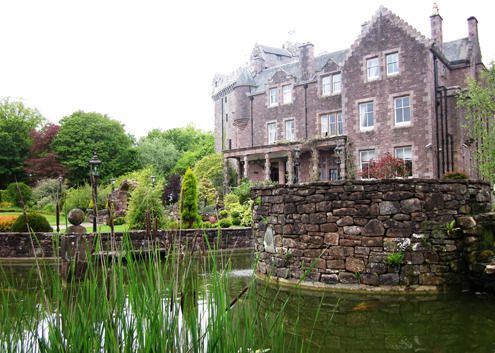 On the Saturday we drove another hour North to Dumfries for Chris' high school friend's wedding. They had hired out Comlongon Castle and the whole grounds, rooms, atmosphere, wedding, band, reception, food was AMAZING.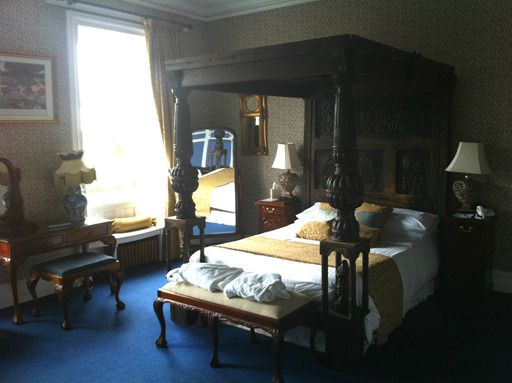 We stayed in the Mansfield Honeymoon Suite and it was massive! I was so shocked and impressed with it all.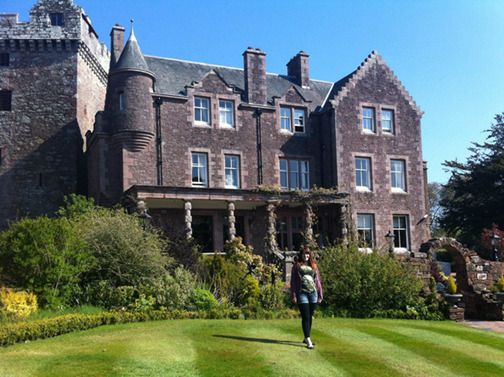 This was taken the next morning before our six hour journey back home after partying until 2am and having to be up for breakfast at 8am (I tried haggis for the first time and I like it!).
I could write loads and loads about just the wedding and reception alone, but I'll keep it brief and just say the rock band were great, serving cheese and crackers at 11pm is the best idea ever and I got verily, verily merry. Now I feel rejuvenated and full of energy. It also helps that it's stopped raining every single day here in Norfolk!
Just got to start saving again, because after that THREE day holiday I'm completely broke! It felt like it was longer at least.
Emotion:

grateful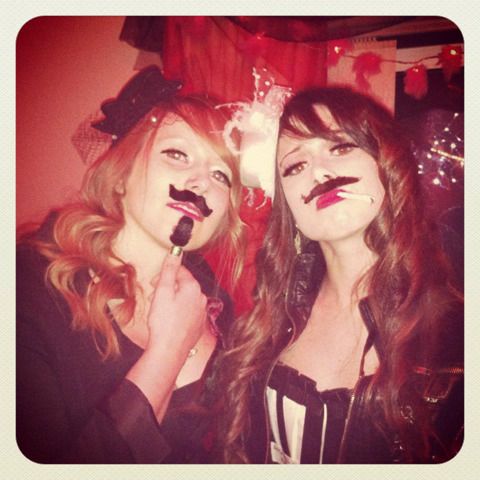 Gemma and Jess tashin' it up
(
More photos under the cut...
Collapse
)
Emotion:

happy